Golden Darkness
Talk

0
250pages on
this wiki
Golden Darkness (Real Name: Eve)


Name
Golden Darkness (Real Name: Eve)
Kanji
金色の闇 (Real Name: イヴ)
Characteristics
Planet
Kurosu (Anime only)
Birthday
May 12
Age
 ? (Stated as 24 in the anime)
Height
153cm
Weight
45kg
Eyes
Dark Red
Hair
Blonde
Unusual Features
Body Transformation
Personal Status
Marital Status
Single
Relatives
Doctor Tearju Lunatique (Creator/Genetic donor)
Mea Kurosaki (Genetic Little Sister)
Education
Currently attending Sainan High School
Occupation
Assassin
Debut
Manga
Chapter 35
Anime
Episode 11
Voices
Japanese
Misato Fukuen
Golden Darkness
(金色の闇 Konjiki no Yami), mostly referred to by other characters as
Yami
,
is a major character in
To Love-Ru
and one of the main protagonist of
To Love-Ru Darkness
. She is a lonely assassin who is initially hired by Lacospo, one of Lala's arranged suitors, to kill
Rito Yuuki
. But when
Lacospo
effectively annuls the job, she decides to take her time and, under the pretense of still needing to complete her mission to kill Rito, stays on Earth. As she spends more time on Earth, she builds a very strong relationship with Rito's mature younger sister,
Mikan Yuuki
 and to Rito himself, to whom it is very possible that she developed feelings for (Chapter 158 of the manga; In "To Love Ru Darkness" Chapters 001 and 002,
Momo
realizes that Yami is attracted to Rito).
In To Love-Ru Darkness, Yami becomes one of the main characters. This is because there is a group that wants her to join them as the heartless assassin she once was. Her "sister", Mea Kurosaki (a product of the same program that created Yami), has been sent to Earth to take her away and revive the old heartless/murdering self that she once was.
While Yami rediscovers her own humanity and interacts with more people she can call her friends, she becomes uncertain if she truly belongs in such a peaceful life she has found during her stay on Earth, or her real place is inevitably her old life as a cold assassin. It has been revealed by other assassins from her old life, Yami has fought as though she was an emotionless automation. As she continues to spend more time on Earth, she becomes more used to living in a more peaceful life and becomes more comfortable around other people, mostly around Mikan, her only genuine friend, and also significantly Rito, with whom she develops a trusting but often humorously abusive relationship.
Throughout the story line, Yami has come to realize that when she's in trouble, it will be her friends, and not just herself, whom she can rely on; however, she states that she can't rely on Rito Yuuki (in the anime, she was just kidding).
Yami has grown to care greatly for Mikan that she would protect and save her from her enemy Tyrant Azenda, even going to the point to sacrifice her own life just to save her. Yami's other most significant relationship is with Rito, for whom she has mixed and undefined feelings, but also trusts him with things she hasn't confided in anyone else. She tells Rito about her past with her creator, Dr. Tearju Lunatique, who named her Eve, and how the evil organization tried to take advantage of her until it collapsed, at the time when King Gid Lucion Deviluke triumphed in the Galaxy's Unification Wars.
Golden Darkness/Yami's character and appearance are based on another character named Eve from the manga series Black Cat (another series by Kentaro Yabuki). This Eve has also been created by a character from Black Cat, whom Tearju Lunatique was designed and named after.
Appearance
Edit
Yami has long blonde hair, dark red eyes, and a child-like figure. Although it should be noted that she can change her appearance to look older with her transformation ability, her choosing to remain in her child-like form is most likely due to the fact that it is comfortable when in combat. This can be seen in both the manga and OVA where she wonders on whether or not having larger breasts and a more mature body would affect her balance.Characters have made several notes about the shape of her thighs throughout a few points in the manga--most notably the principal, who makes the remark during their first meeting. Of course, this was all before they were pummeled by none other than Yami herself.
She is additionally famous for her all-black Gothic-style signature outfit. Her outfit has a star shaped gap at the chest of her clothing, which can also be found on the clothing of Mea and Nemesis. It also features two waist belts, five leg belts on both of her legs, and two sleeves that attach to her upper arm via belt.
Another notable aspect of her appearance are her hair clips on each side of her head which give her a cat-like appearance, possibly paying homage to the illustrator's earlier work, "Black Cat", from which her character design also originated.
Personality
Edit
Though she does come off as stoic, emotionless, and withdrawn in actuality she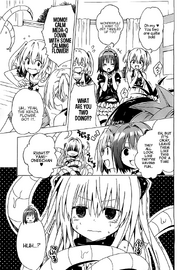 is pretty kind, but she would attack people who talks about something that she doesn't like. She also hates perverted people and normally attacks Rito (despite knowing its not his intention), who by his clumsy nature trips into her and gropes her, or the 
principal
, whose perverted nature makes him come running to her in almost no clothing whenever he sees her. She also has a weakness towards anything slimy and with tentacles.
Yami is often reading books to understand Earth's culture and learn more about emotions such as love. She had been contracted to kill Rito, but after their initial meeting she chose to 'assess' him. Since chapter 158 she by has begun showing small inklings of feelings towards him for not taking advantage of her while affected by Celine's pollen.
In To-Love-Ru Darkness Yami's feelings for Rito are shown quite a few times. He shows kindness to her, and because of this she's not sure about her feelings or whether she really wants to kill him but tries to convince herself that he is still her target. Strangely, he is the only person she has ever opened up to about her origin and about her old life before being an assassin, instead of to her closest friend Mikan, which is also something that confuses herself. One time she looked at him from behind holding a book titled "lovers", further hinting her feelings for him.
She has a fondness of taiyaki, which was the first and only food she eats after coming to earth. It was given to her by Rito. Shortly before her attempt to assassinate him. Its stated that since becoming an assassin, Yami has never slept with a calm mind (her body always "standing" on guard), but she appears to have slept calmly next to Rito in Darkness Chapter 13.
In the beginning Yami wasn't always heartless and cold. Before she became an assassin, she was a happy, cheerful and playful little child, especially around Tearju, but was left heartbroken when hearing that she had left and Yami was left in the hands of the organization that made her the emotionless person she is today. However, as the series progresses, she begins to show a more happy and gentle side from time to time and opening up more around others especially to Rito, whom she shows love/hate feelings to.
Since Tearju's arrival, Yami has remained distant towards her. The real reason for this was because of her life as an assassin and what she became after they last met, she was afraid of the awkwardness between them, but with some encouragement from Rito and Mea, Yami slowly tries to become closer to Tearju.
There was not much history known about Golden Darkness until she opened up to Rito. She is a living weapon created by Dr. Tearju; who named her Eve and raised her like a younger sister from when she was little, Eve was a happy little girl who looked up to Tearju. Tearju would always read a bedtime stories and cook for her little sister and despite the food being badly made Eve would still force herself to eat it. Until the organization that had
Tearju create Eve took her away to be trained as a weapon renamed Golden Darkness and tried to have Tearju killed. Tearju escaped but was separated from Eve and couldn't find her until they meet again on Earth in
To-Love-Ru Darkness
. The organization was destroyed by the hitman
Black
(a character based on
Train Heartnet
, the main character from Black Cat), setting her free.
Tearju is also the name of the scientist who created Eve in Black Cat, whom Yami is based on. The connection between the two is also strengthened by the fact that her given name is also Eve. 
Before she met Rito and Lala, she lived in the universe alone, doing her job as an assassin. Yami had fought and mercilessly defeated the assassin called Tyrant Azenda because of a dispute within the assassination organization they both worked for.
Powers and Abilities
Edit
Golden Darkness' signature ability is her transformation ability. This ability allows her to turn almost any part of her body parts into various objects, preferably weapons or tools used for combat; the nanomachines that circulate through her body allow her to do this. She usually uses her long hair for transformation, occasionally using her arm and feet. A few examples of her transformation capabilities are:
Hair Transformation: Yami's most notable ability is her control over her hair. She can control its movements, extend its reach and uses it to create giant fists and dragon heads. She can even solidify her hair into metalic weopons like sword blades, metal teeth, battle axe, spiked maces, drills, hammer, wrecking balls ect, even some medical equipment and even a giant shoe that's similar to the one's she wears.
Hand Transformation: Yami can change her hands into huge gauntlets and blades or just her fingers like bladed claws.
Feet Transformation: Yami can even transform her feet into spiked wrecking balls.
Person and Animal Transformation: Yami is able change her size and measurements to look more mature and adult like. She is also able to change parts of into animal like features that gives her extra capabilities, growing a pair of feathered wings from her back to enable her fight and turn her legs into a fish tail (similar to a mermaid) with gills that lets her breath and swim better underwater.
Attire Transformation: On her "date" with Rito, Yami used her abilities to change her black Gothic outfit into a cute dress, but she said that she can't hold it for very long.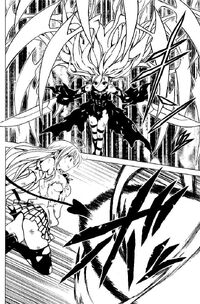 A downside to her powers is that if she uses her power excessively, the nanomachines in her body overheat, leaving her extremely weak and unable to move and causing her to pass out (To Love-Ru Chapter 45).
Yami considers her power to be a "cursed power" and that it can only be used for hurting people, however, she is truly able to use her powers for harmless and trivial purposes with safe precision, such as cutting up Lala's tofu (Chapter 76) or doing maid work at Saki Tenjouin's mansion (To-LOVE-Ru Darkness Chapter 31). Apart from her alien powers, she also has excellent martial arts skills. Her physical combat skills nearly match her transformation power, meaning that even if her transformation powers were taken away from her, she could still win a fight with just her fighting skill, as shown when she beats up the school principal while in Mikan's body only using kicks and punches, she has also shown to be skilled with a regular sword.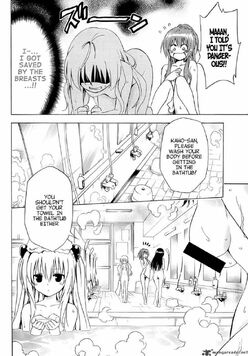 Yami is one of the most popular and main characters, aside from Rito, Lala, and Haruna. This may be because she is almost identical to Eve from Black Cat, which was also made by To Love-Ru's illustrator Kentaro Yabuki. She appears regularly in the To Love-Ru series, but not in every chapter.
Due to her popularity, she was made one of the main characters in the spin-off series "To Love-Ru Darkness", which is the continuation of the first To Love-Ru manga. In this series, she replaces Lala as the main heroine, though Lala is still seen a bit less often. In the anime, she appears in a few episodes, including all of the OVAs.
Yami also made a cameo appearance in the manga Mayoi Neko Overrun in chapter 7 page 27.